If you have news alerts set to track articles on college admissions (that'd be me!), you're likely seeing articles like this one published today in The Wall Street Journal or this one published on Monday in Inside Higher Ed. What do you need to know? At the most selective of colleges and universities in the United States, admit rates have plummeted to ridiculously low levels, in some cases below 5%. Here is an early analysis of some two dozen college admit rates this year compared to last: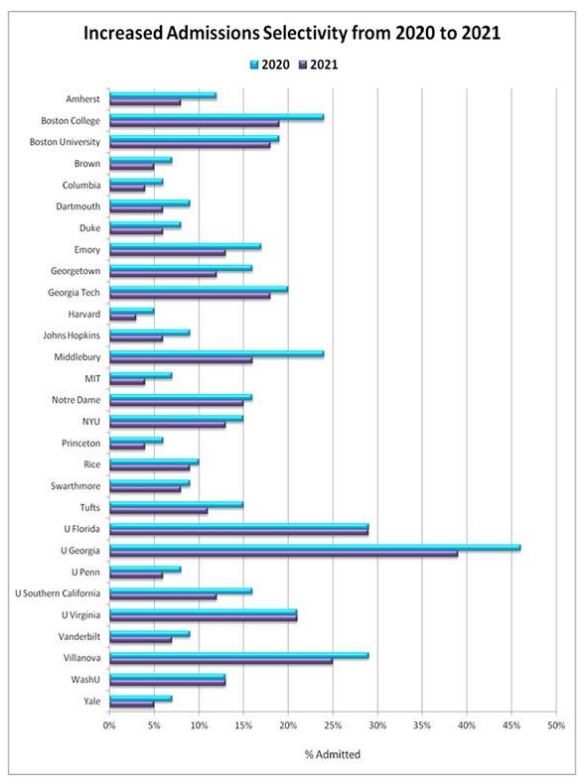 Now, while you will hear news of "extraordinary admit rate drops," the fact of the matter is many of these schools had low rates to begin with. Further, coupled with the obscene increase in applications received by the institutions listed above (and others), a drop in admit rates is not surprising. Remember what I've said in previous blog posts – though applications increased in some cases by 100% at some institutions (here's looking at you, Colgate!), the overall number of students applying to colleges through the Common App only increased a shade over 2%. There aren't more applicants. And there are rarely more seats to be had at most institutions. What we have are individual applicants applying to more schools.
Why? COVID and the growth of the test-optional movement for one. COVID again and the chaos it has inflicted on family financial situations. COVID one more time and the fact that students have rarely been able to visit colleges – how are they supposed to know where it is they may want to enroll? All told, conditions were ripe this year for results like these. Will it get better next year? At the most selective of institutions like those listed above and others like them, probably not.
Beyond these low admit rates, what is also often surprising to families who survey college application threads on Reddit or websites like College Confidential are the stats of students who received unfavorable results. Yes, students with perfect scores and grades have been denied admission at numerous institutions (not just HPYSM and their ilk). It can be scary for students preparing to enter this process – they may well be asking themselves, "Will I be admitted anywhere?"
The answer is, of course, YES, but it has never been more important than now to have a BALANCED list of colleges to which you will apply. Application numbers and admit rates are not down everywhere. I've seen fabulous application results for students I work with at both public and private colleges and universities, places where these students will thrive. The admit rate of a school has so very little to do with the quality of the education you will receive OR where you will end up after graduation. Your college experience will not come down to an admit rate or some ranking in a college guidebook. It will come down to you and what you make of it.